Ultrasonic for Cellulite
---
Ultrasonic cavitation is one of the latest non-surgical methods of lipid cellular reduction. The body-trimming mechanism uses ultrasounds of high and low radio frequencies, which penetrate into the sub-cutaneous layer of the skin where fat cells are stored.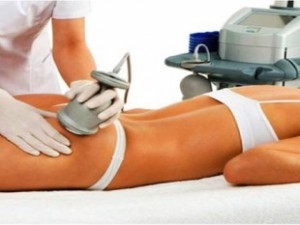 How It Works Ultrasonic Cavitation by MEDDEX technology enables concentrated sonic energy to be directed only at localized treatment areas, and is thus capable of selectively disrupting the subcutaneous fat cells through thousands of microscopic implosions impacting the fat cell membranes. After breakdown of fat cell membrane in the adipose tissue, the fat is released into the interstitial fluid between the cells; here it is enzymatically metabolized into glycerol and free fatty acids. Water-soluble glycerol travels through the circulatory system, whereas the insoluble free fatty-acids are decomposed and disposed of by the liver.
Areas that can be treated
Abdomen
Thighs – front and back
Buttocks
Upper Arm
Flanks or "love handles"
Procedure and Results
Treatment times may vary depending on the area being treated but a typical session will last between 45 minutes to an hour. This includes the consultation, treatment and post treatment protocol.
Most clients see an immediate change in their appearance after the first session, with optimum results after 6-10 sessions. Age, metabolism, changes in hormonal activity in the body, medication, tissue structure and treatment area will have an impact on the results.
This is a non-invasive procedure, that is safe, painless and with virtually no side effects. It does not require anesthesia.
The ultrasound energy is designed to target only fatty tissue beneath the skin, and does not affect the blood vessels, nerves and connective tissues.
The procedure is performed by a Medical Aesthetician that is trained and experienced in Ultrasonic cavitation technique.
Other Benefits of Ultrasonic Cavitation
Reduction of fatty tissue and cellulite appearance
Body shaping and contouring
Skin tightening and toning
Pricing
Consult: $35 (to be applied to the price of procedure)
Single Session: $100+
6 Sessions: $480
10 Sessions $720
Treatments performed at Johns Creek Spa
Suwanee Spa:335 Peachtree Industrial Blvd Suwanee GA 30024
Johns Creek Spa:10990 State Bridge Rd Johns Creek, GA 30092
© Copyright Bluefern Spa