HydroFacial
---
The Hydrofacial or Hydrodermabrasion is a non-invasive, non-surgical procedure that delivers instant results with no discomfort or downtime. This treatment combines cleansing, exfoliation, extractions, and hydration all in one while also replenishing vital nutrients including Antioxidants, Peptides and Hyaluronic Acid.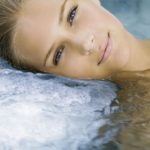 Antioxidants: key chemicals that help protect and repair skin
Peptides: amino acids that boost the production of collagen and elastin
Hyaluronic acid: responsible for giving skin volume
The Hydrofacial is suitable for all skin types and can be customized to meet your unique skin care needs.
Hydrofacial can treat the following:
Fine Lines and Wrinkles
Elasticity & Firmness
Skin Texture
Hyperpigmentation/Photo Damage
Oily/Congested Skin
Enlarged Pores
Advanced Signs of Aging
Hydrofacial-$150
Hydrofacial with Peel-$180
Suwanee Spa:335 Peachtree Industrial Blvd Suwanee GA 30024
Johns Creek Spa:10990 State Bridge Rd Johns Creek, GA 30092
© Copyright Bluefern Spa