Saltroom
---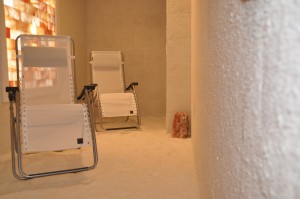 Salt Therapy or Halotherapy is a widely used natural remedy that goes back several centuries. The healing atmosphere of salt caves was acknowledged as far back as medieval times, with monks taking the sick down into salt caves to allow them to breathe air saturated with salt particles.
In 1843, Polish doctor Felix Boczkowski, a physician at the Wieliczka salt mine, observed a remarkably low incidence of respiratory conditions in salt miners. In modern times, salt therapy has become widely popular in many European countries and all over the world because of its proven benefits.
How Does it Work?
The Salt Room at Bluefern Spa utilizes patented state-of-the-art technology to reproduce the atmosphere of a salt cave with a monitored therapeutic microclimate. The air in our salt room is ionized and infused with a low concentration dry salt aerosol. To build the salt room, pure rock salt and Himalayan salt bricks were used.
The SALT FX Halogenerator uses pharmaceutical grade salt grinded into micro-particles and disperses them into the Salt Room. During a typical 45 min. session, you can relax in our zero-gravity chairs, take a nap, read a book, while enjoying the soft music and stress-free atmosphere.
More than 40 years of research, conducted around the world, shows that treatment with Halotherapy has beneficial effects for: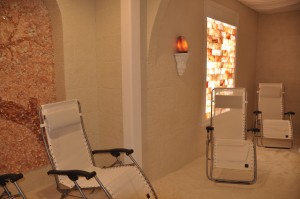 Asthma
Bronchitis
Sinusitis
COPD (Chronic Obstructive Pulmonary Disease)
Cystic Fibrosis
Allergies or Hay Fever
Ear Infections
Chronic Respiratory & ENT diseases
Coughs & Congestion
Boosts Immune System
Snoring
Salt is also extremely beneficial for the skin in conditions like:
In addition, salt naturally produces negative ions, which induce the "clarity effect" that people love from Halotherapy treatments. Negative ions have been shown to reduce: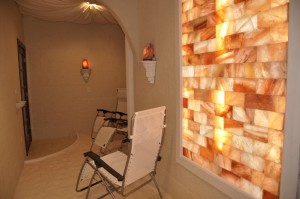 Stress & tiredness
Headaches
Depression
And negative ions can dramatically increase your:
Energy
Mental alertness
Overall sense of well-being
Why it works for Lungs
The inhaled particles of salt have bactericide, mucokinetic and anti-inflammatory properties, resulting in reduced inflammation in the entire respiratory tract, a widening of the airways passages, accelerated eliminated of mucus, residual tar and foreign allergens, and an improved immune system. Dry salt is super absorbent and acts like a sponge attracting foreign substances along its path through the respiratory tract.
Why it works for Skin
The micro-particles of salt have a beneficial influence to the skin's protective layer providing haling and cosmetic effects. The salt normalizes Ph and induces healing and regenerative processes in the skin.
Salt Therapy for Children
Clinical trials have shown that children react very quickly, effectively and intensely to natural healing methods. The effectiveness of Salt Therapy is highly recommended for all pediatric respiratory and skin conditions. Studies have shown that 85% of children became symptom-free after only 3 therapy sessions. This effect is long-term. The treatment definitely improved their quality of life.
Contraindications
Acute stage of respiratory diseases
Open wounds
Blood conditions in acute stages
Cardiac Insufficiency
Chronic obstructive lung disease
Drug addiction & alcohol intoxication
Cancer and malignant diseases
Mental disorders
Patients who have TB
Severe chronic respiratory failure
Severe high blood pressure
Spitting of blood
Acute Kidney Disease
Viral or Bacterial Infections
Please Note That:
Salt Therapy is not a substitute for medical treatment and diagnosis of any health condition. It is recommended that you seek medical advice relating to your health problems; do not neglect regular medical check-ups; do not change or top taking your medication and treatment without consulting the physician. Patients with high blood pressure need doctor's consent. Pregnant women need doctor's consent.
Suwanee Spa:335 Peachtree Industrial Blvd Suwanee GA 30024
Johns Creek Spa:10990 State Bridge Rd Johns Creek, GA 30092
© Copyright Bluefern Spa