BOTOX®/ DYSPORT
---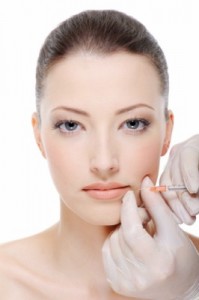 What Is BOTOX®?
BOTOX® Cosmetic is a prescription medicine that is injected into muscle and used to improve the look of moderate-to-severe frown lines between the brows, on the forehead and around the eyes,  in people 18 to 65 years of age for a period of time (3-4 months). BOTOX® Cosmetic is administered by a healthcare professional as a simple, nonsurgical treatment that is injected directly into the muscle.  It works by blocking nerve impulses to the injected muscles.  This reduces activity thus relaxing the muscle that forms the lines. We are proud to offer Botox Treatment here at Bluefern Spa.
Facts about the BOTOX® Treatment
BOTOX® Cosmetic, introduced in 2002, is the first botulinum toxin to be approved by the FDA to temporarily treat moderate to severe glabellar lines between the brows. With real, noticeable results, no surgery and no recovery time, there are many reasons why BOTOX® Cosmetic has been chosen by millions of women and their doctors. Approximately 11.8 million BOTOX® Cosmetic procedures have been administered in the United States since 2002.
BOTOX® Treatment for Men
BOTOX® Cosmetic is certainly not just for women. If you are a man and think it's time to do something about those moderate to severe glabellar lines between your brows, talk to your doctor about whether BOTOX® Cosmetic is right for you. 6% of total BOTOX® Cosmetic procedures are performed on males (313,714 procedures) BOTOX® Cosmetic is the most popular minimally invasive physician administered aesthetic procedure for males (314,000 procedures) On average 1 area needs 16-25 units.
DYSPORT
Special – $8/UNIT
Monday, Dec. 19th
10 am – 5 pm
DYSPORT injections work by relaxing the facial muscles, to soften and smooth the frown lines, 'crow's feet' and forehead lines.
DYSPORT has the quickest onset of action within 3 days
$100 OFF one syringe – Restylane Silk for lips.
Gift Certificates for Vampire Facial with PRP $300 OFF
BOTOX available for $10/UNIT
Call to schedule appointment 770-904-0145
Consultations with David Hon M.D. can be scheduled and are $75, to be applied to the cost of the service. We require a credit card number to reserve all appointments. In the event that you need to cancel your appointment, we require at least 48 hours notice so that we may accommodate the needs of other clients. No show appointments will be charged the full consultation fee.
Suwanee Spa:335 Peachtree Industrial Blvd Suwanee GA 30024
Johns Creek Spa:10990 State Bridge Rd Johns Creek, GA 30092
© Copyright Bluefern Spa